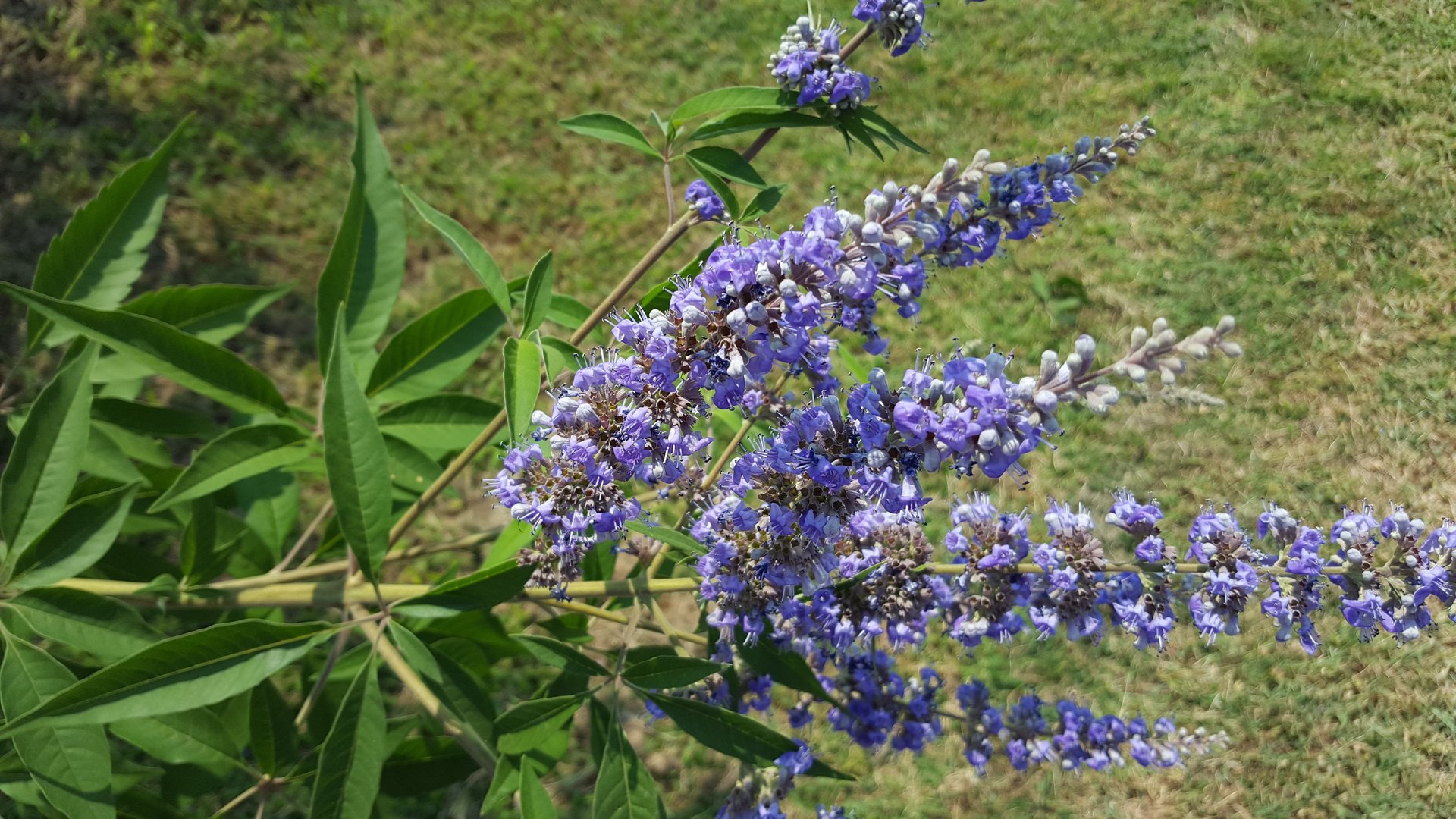 Ornamental flowering shrubs grown in Oklahoma City
I root shrubs in Oklahoma City, OK, US.
Landscape designers, garden clubs, farmer's market vendors, independent greenhouses and nursery growers buy our potted plants and cut-flowers.
6/9/22 AVAILABILITY
Two Hour Plant Sale!
We have some really nice plants grown for you here in Oklahoma City.
Hosta 'Stained Glass', 'Dream Queen', 'Liberty', 'Blue Mouse Ears'
Hydrangea paniculata 'Phantom' just pruned again for fullness
For your native plant edible landscaping, easy to grow shrubs in OKC are:
- thornless blackberries for humans (fresh)
- rabbiteye blueberries for humans (fresh)
- chokeberry for birds (or jam)
- beautyberry for birds (or jam).
My big berry bushes all sold out multiple times early in spring. These are starter plants ready to grow on.
Berry bushes grow rapidly!
Rabbiteye blueberries: Vaccinum 'Pink Lemonade'
Thornless blackberries (PP#17162, propagation prohibited), $7.97
Actually all my plants are $7.97, I cleared out those 3' trees and the Japanese Red Maples.
I sell primarily to nursery growers. If you live here in OKC, you can buy here too, with sales tax :)
Aronia arbutifolia Red chokeberry
Aronia melanocarpa var elata Glossy black chokeberry
Callicarpa americana Beautyberry

I don't like selling plants in the hot sun, my front yard is southern exposure.
Today Thursday June 9, get over here and buy plants without an appointment from 6pm - 8pm.
It's "only 83" degrees and this is the last overcast day in the forecast.
More food plants:
Ribes aureum Buffalo currant $7.97
A couple of strawberry plants I found :)
Sweet potato slips 4/$7.97
If you haven't grown sweet potato slips, the internet makes it sound like you need to grow them yourself from a tuber. Okay, sure, it's great to make your own. Or you can pick up an instant batatas patch from me.
I have slips happily growing in fabric pots. These are the tropical sweet potato grown for thousands of years, Ipomoea Batatas (Sweet Potato) 'Beauregard'. May and June are the best times to plant sweet potato slips. They vine and grow similar to the ornamental sweet potato vine, so containers are OK -- and easy to dump out for harvest if you and your shovel aren't friends yet.
Speaking of native-to-south-of-here plants, I just got some more Dahlia tuber clumps, you know I can't keep these in stock. Check with me early next year for Fleurel, Café au Lait, Emory Paul dahlia tubers. Dahlias are easier to grow than some northern growers may lead you to believe! We still have time to get dahlia flowers this year planted now because of our late frost date. I have Sylvia (Maarn) and Ferncliff Duo clumps with many eyes. You can cut them apart and plant, or plant as a clump. Large containers or garden bed with 5+ hours of sun. Still just $7.97. I know!!! It's just easier for me, I get all discombobulated trying to remember different prices.
Dahlia 'Sylvia'
Dahlia 'Ferncliff Duo'
This is a working nursery so you'll see plants that were just potted also in addition to the ones above. Please leave them be unless you are confident to grow plants that just emerged from bareroot or are coping with being transplanted into their new container size. I grow plants that are tough, hardy, and don't mind humans being new at this, but please be conscious of your knowledge so you choose plants that will be so happy and thrive in your garden culture. These plants you will see here also:
Physocarpus opulifolius Ninebark
Dianthus x barbarus 'RockinTM Red'
Hosta 'Francee' (omg they come out so cute)
Hosta montana 'Aureomarginata'
Monarda didyma 'Jacob Klein'
Weigela florida 'Courtalor'

More plants!
Vitex agnus-castus -- that's the plant featured above in the photo!
Hemerocallis 'Stella D'Oro', 'Mini Pearl' 'Apricot Sparkles' 'Pardon Me' these daylilies will grow very compact
Hemerocallis 'South Seas' 'Buttered Popcorn' will grow to 2'-3' foliage height daylilies, flowers above the leaves
Liatris spicata alba White Kansas gayfeather
Vitis x 'Somerset' blush table grapevine

I plant more plants every week. You can sign up to get my availability emails.
Thank you!!
Flowers for people, pollinators, and places.
405-420-8783
rootshrubs@gmail.com
113 SE 57th Street
Oklahoma City, OK 73129