UPDATED 9/19/22 AVAILABILITY
Fall $7.97 Plant Sale!
OKC grown perennials and shrubs must sell this Saturday, 9am-2pm
Local, family growers must sell hundreds of mums, berries, daylilies, coneflowers and more in 2 or 3 quart #1 pots.
Evan and I have an excellent selection of the items listed here. We have lots and lots of other things you can buy, all only $7.97 each but I'm not finna list them all here. These are the items that look fantastic right now and are totally a steal at only $7.97 each.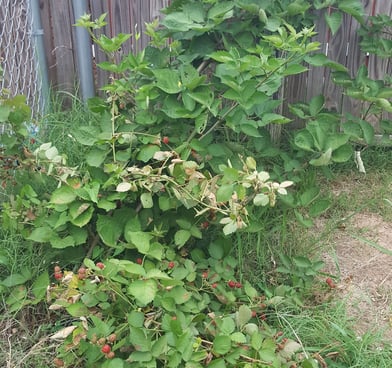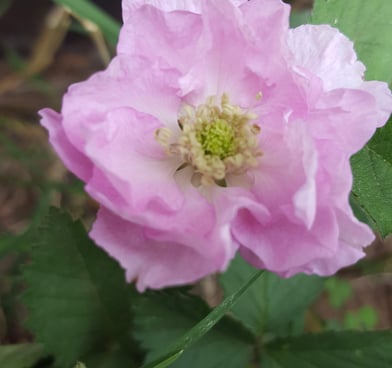 Ouachita Thornless Blackberry plants in my backyard
1-year potted Thornless blackberry plants $7.97
Thornless blackberry Rubus x 'Ouachita' PP#17162
Best tasting, largest berry, high sugar content, no thorns! Evan and I pick them when they fall off with a touch and mostly eat them right there in the yard. Produces right after strawberries for us here in OKC, May/June.
Buddleia davidii white butterfly bush $7.97. Look at those flowers!
Left: Award-winning Buddleia davidii 'White Profusion' quickly grows to be a 5'-7' shrub and has no problem being cut on to whatever shape and size for your garden. Not patented. Photo is of Painted Lady butterfly. Always plant native perennials near butterfly bushes to support your ecosystem.
Middle: Photo of Buddleja davidii 'White Profusion' cultivar taken at Longstock Park Nursery by Ptelea, CC BY-SA 3.0 <https://creativecommons.org/licenses/by-sa/3.0>, via Wikimedia Commons
Pink and Blue buddleia SOLD OUT
Yellow Honeycomb Buddleja x weyeriana nearly ready!
Right: Close up of White Profusion: butterfly bush flower cone
2 quart square grower pots just $7.97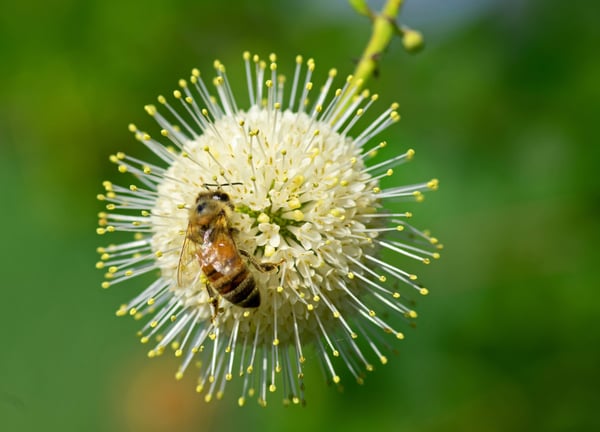 Honeybells Buttonbush
Cephalanthus occidentalis
Native nectar shrub -- a pollinator banquet that can deal with flooding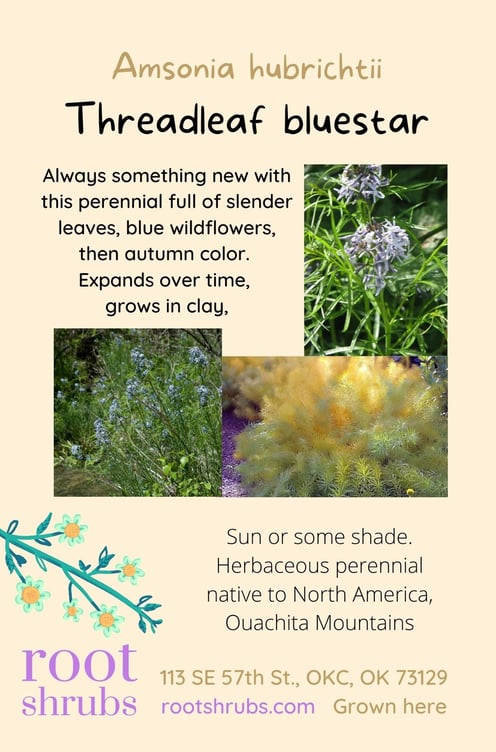 Thriving native species and nativars! $7.97 All return year after year.
Herbaceous perennials come back bigger each year: plant now! My favorites for our area are:
Amsonia hubrichtii, threadleaf bluestar
Baptisia alba, white false indigo
Baptisia australis, blue/purple false indigo
Red or Magenta Bee Balm
Native shrubs can deal with the heat and the cold we get here in central Oklahoma. Choose from:
Honeybells Buttonbush, best nectar plant per square inch
Purple or Pink Beautyberry, Callicarpa americana (species) or Callicarpa americana (Welch's Pink)
Lawn replacement groundcovers $7.97. Choose from:
Narrow blue eyed grass, Sisyrinchium angustifolium (Oklahoma native plant)
Appalachian sedge, Carex appalachica (North American native plant)
Plant these as the edge between a new seed bed and your lawn where you have part sun or part shade, or under a tree.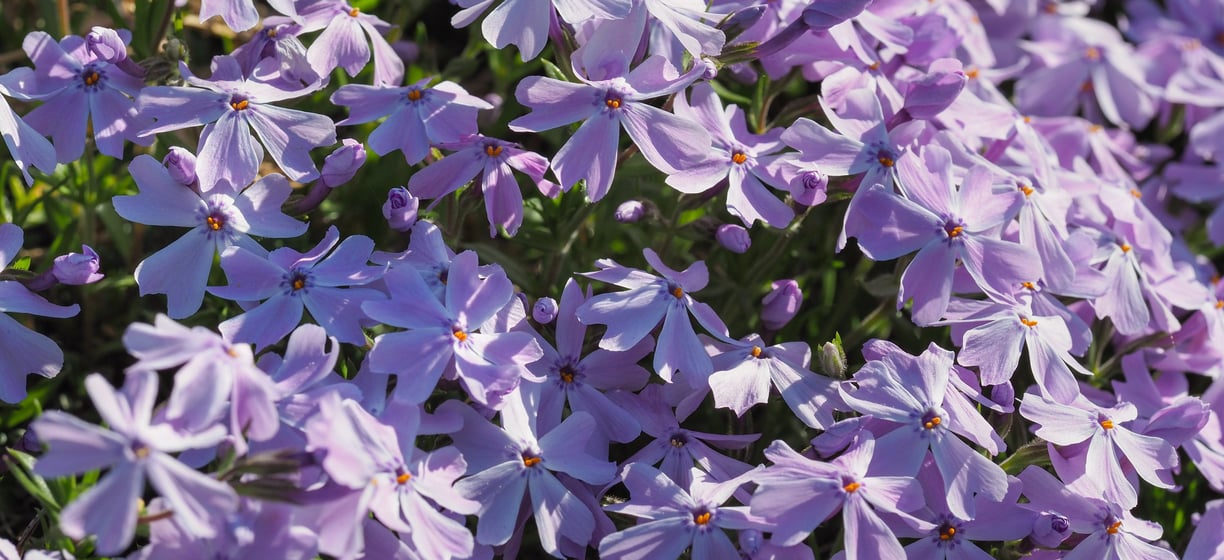 Emerald Blue creeping Phlox subulata groundcover
Dianthus gratianopolitanus 'Firewitch' // Dianthus x intermedia 'Rockin' TM Red
Hot Pink Firewitch Dianthus is a terrific little plant that keeps mounding wider from one root. This carnation relative is called "Cheddar pinks" - each single hot-pink flower is less than 6" tall over 3" mounding silver-blue needle foliage. Snip off flowers for tiny cuts to bring inside (beautiful clove scent!) or once faded in the garden for reblooming. Rockin'TM Red Dianthus on the right has wider green foliage, and both are reblooming now.
Dianthus return each year and increase in size.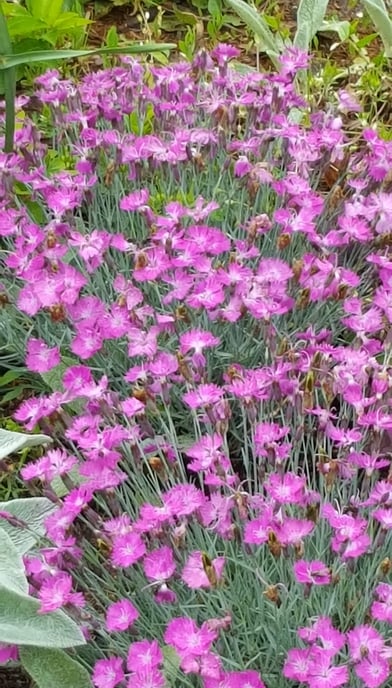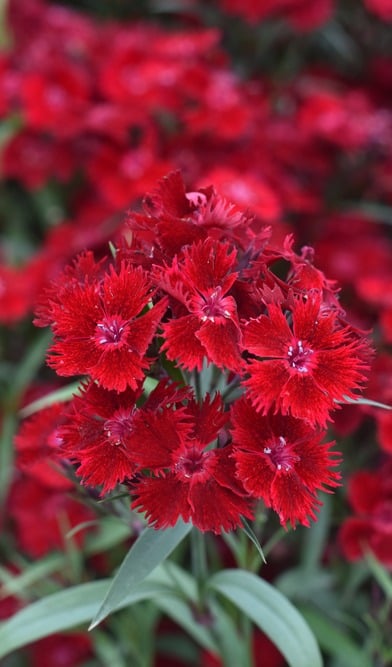 Evan and I grow our plants right here at home in our backyard nursery. This Saturday, our plants are out in the front yard for sale, $7.97 each. Bring a hat in case it's not overcast when you arrive.
We've learned that it gets going quick around here during a sale,
so please don't call or message,
grab your plant friend and get in the car, OK? :)
$7.97 PLANT SALE: September 24, 2022. Saturday, 9am-2pm
113 S.E. 57th St., Oklahoma City, OK 73129
Look for the sunflowers.
We have these really cool plants, Beautyberry, Callicarpa americana:
Beautyberry are attractive in the landscape, native to woodlands in our area, and do well in mostly sun with just a small amount of shading. Some use the leaves for a bug repellent and the berries for jam.
$7.97 each.
Add grapevines this year!
You can grow grapes at home. All wine grapes have seeds for flavor.
Specialty Wine Grapes recommended for Oklahoma home gardeners!
Choose from:
Chambourcin: late, blue/black, hybrid
Marechal Foch: very early, blue, hybrid SOLD OUT
Traminette:
Traminette wine earned a Silver medal from the Oklahoma State Fair, Professional category in 2022.
Geisenheim: Riesling x Chancellor, with labrusca
Riesling: middle, white, vinifera
Seriously, just $7.97 each.
$7.97 each
Literally all of the plants Evan and I have in our backyard nursery are $7.97. Okay, I have two nativar/hybrid hardy Hibiscus moscheutos in 3-gallon fabric planters for $34, come and buy them so I can say "EVERY THING" in the place is $7.97!
This Saturday morning only, the plants are out for sale in the front yard.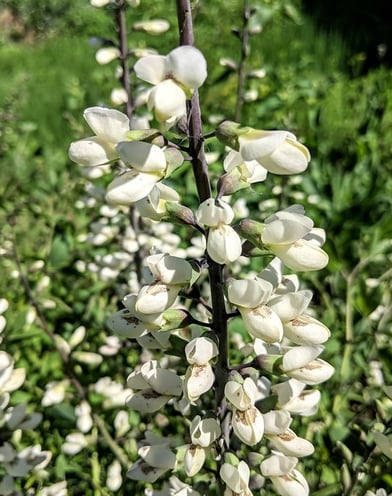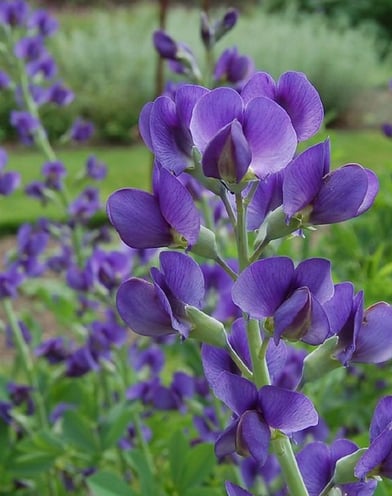 If you don't already have a stand of a species baptisia, make sure you pick whether you want white or blue/purple and come to my huge plant sale this weekend. $7.97 while they last.
Baptisia alba, White false indigo
Baptisia alba is native to Oklahoma and a host plant for Zarucco Duskywing (Erynnis zarucco) and Wild Indigo Duskywing (Erynnis baptisiae).
Baptisia australis, Wild blue false indigo, Looks like the most extreme bluebonnets. Just beautiful.
Baptisia australis is native to Oklahoma and a host plant for these butterflies: Clouded Sulfur, Eastern Tailed Blue, Frosted Elfin, Orange Sulfur, Wild Indigo Duskywing.
These aren't just an amazing flower display, they have a Puffy bean pod display from June to October. It's very attractive, look!
Baptisia transplanted for me without complaint in 90 and 100 degree heat. Clay tolerant, drought tolerant, member of the pea family, don't eat it but do use puffy pods in dried floral arrangements.
Berries, shrubs, perennial flowers, all $7.97
Fall sale at our backyard family nursery.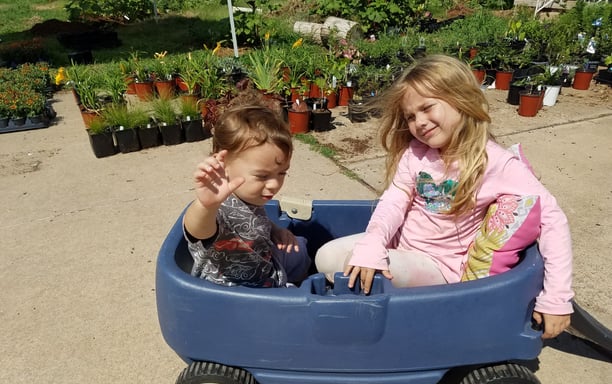 Hardy, tough perennials!!
Kamchatka Yarrow, Achillea 'Love Parade' -- green foilage with light pink "umbrella flowers"
Achillea 'Moonshine' Yarrow -- wooly grey-green foliage with large yellow umbrella flowers.
Agastache Kudos™ Mandarin PP25,381 - nice bright orange color! Can cut back the flowers or leave them for fall
Salvia greggi - autumn sage Purple or Bicolor white/red flowers, native to México SOLD OUT
Salvia nemorosa 'May Night' - popular landscaping purple flower stalks, people and pollinators adore it
Salvia yangii, was Perovskia alternifolia Russian sage, excellent plant for a hot neglected area
Lavandula × intermedia Phenomenal™ 'Niko' PP24193 Lavender
Heuchera micrantha 'Palace Purple' wonderful shade perennial often evergreen (ever purple?) all winter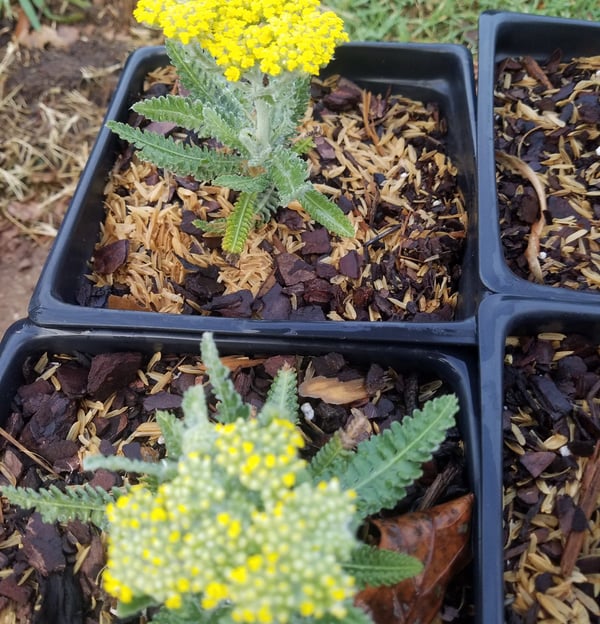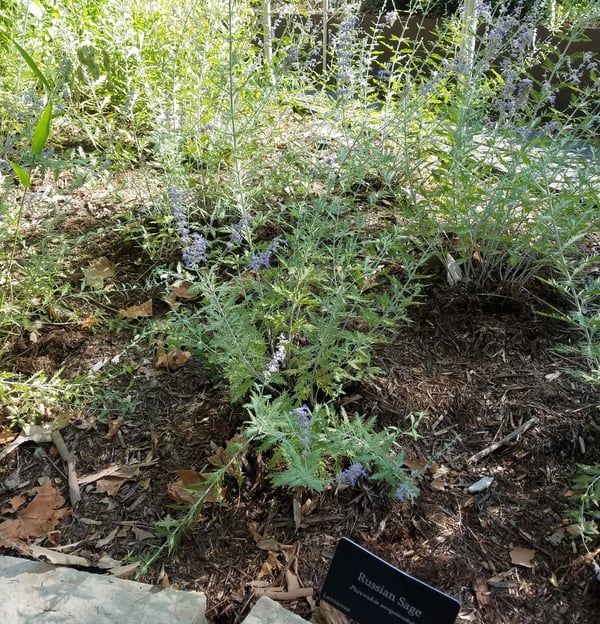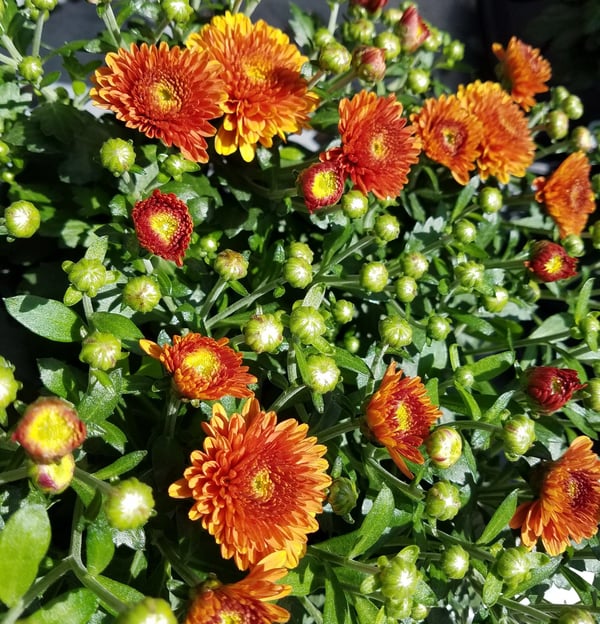 Daylily Collection
Daylilies are hybrids from Hemerocallis fulva, orange lily, and have Lirope-like "sword" foliage, called the "Perfect Perennial" for use in unattended landscapes. You can fit in a daylily anywhere, the foliage is complementary and plus, flowers in the summer when they are so needed!
What is a DAY LILY and how is it different from a REGULAR LILY?
Regular Lilies are florist and garden lilies -- Daylilies are garden lilies.
Don't cut on these - each flower opens for only about a day,
so there is frequently a new bloom.
They form a clump - more flower stalks every year.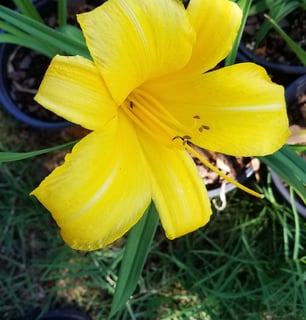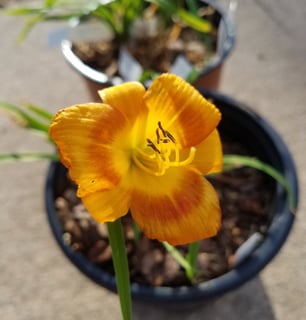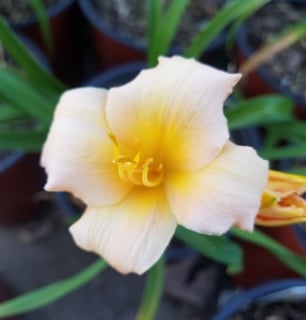 These Buttered Popcorn reblooming fragrant daylilies flower in full sun on the south side of my house in a #1 trade gallon (3-quart) pot. The picture is beautiful but in person these are spectacular.
left Buttered Popcorn
middle Bumble Bee SOLD OUT FOR SEASON
right Mini Pearl
Here is Rosa Bellini in full sun September 2022, wouldn't she be lovely at your house too?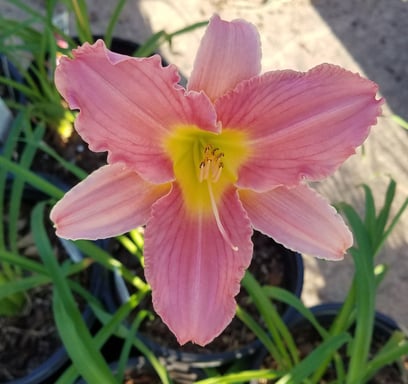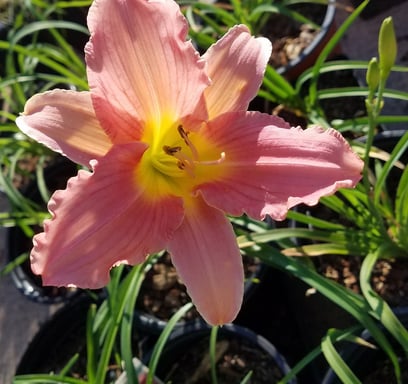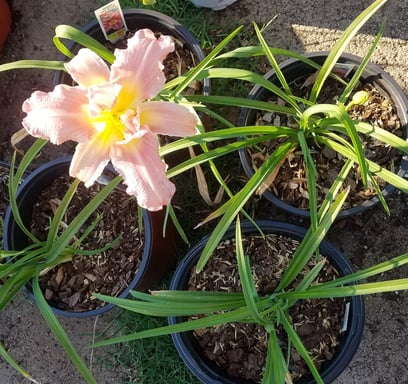 Daylilies do well in sun, even the south side of the house, but have you tried them in part shade, too?
I grow several varieties of pink, peach, apricot, red, and yellow colored daylilies. $7.97, choose from:
Hemerocallis Apricot Sparkles
Ruffled Apricot
Mini Pearl
Stella D'Oro
Buttered Popcorn
Chicago Arnie's Choice
Strutter's Ball
Pardon Me
Ruby Stella
Rosa Bellini
South Seas
Country Uncle
Hall's Pink
Bumble Bee
Left: Hemerocallis Ruby Stella in OKC, July 2022
Right: Hemerocallis Ruffled Apricot in OKC, June 2022
Daylilies are edible and carefree.
Iris domestica, Belamcanda chinensis, Leopard lily
Leopard lily might be the oldest flower in human cultivation (2000+ years),
this beautiful flower increases and divides well.
Leopard lily is now called 'Iris domestica' (newly categorized as a species iris).
Where is this place? It's a house.
We are having a Saturday morning plant sale at the backyard nursery.
Put this into your maps: 113 SE 57th Street, Oklahoma City, OK 73129.
September 24, 2022.
Saturday, 9am - 2pm
Look for the pink signs leading to the sunflowers!
Root Shrubs, 113 SE 57th Street., Oklahoma City, OK 73129.
Yes we accept Cash/check/card/Cashapp, thank you so much!